Property Maintenance in Cardiff
Hiring a company or handyman to carry out your property maintenance can sometimes be a headache.
If you have ever hired a property maintenance company in the past you will know what I am talking about.
Finding a reliable service in the Cardiff area is difficult, quite often these so-called professionals fail to turn up to give you a quote when they say they will and the ones that do turn up overprice their work and try to take you for a ride with their pricing.
That's where Reid building comes in. We are a building company in Cardiff that prides its self on being local, reliable and affordable. We cover all aspects of building and property maintenance and no job is too big or small.
We are based in the Llandaff area of Cardiff but we work all over Cardiff and the rest of Wales. We have been established over 17 years and our reputation now speaks for its self. You don't have to take our word for it though you can see our past clients testimonials here.
Professional maintenance services
We have 17 years experience and a great team of builders that have a wide range of skills. We use our knowledge to work on your projects to come in on time and budget.
We really are a service you can trust. If you have a maintenance job that you would like us to take a look at please get in touch for a no-obligation estimate.
Our Services
Take a look at our other building services we offer in Cardiff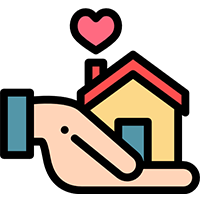 New Builds & Extensions
Considering a new house extension? Give us a ring. We can discuss your new build and extension ideas.
Groundworks
We offer skilled groundworks services in all weather conditions. Contact us to learn more.
Commercial
We work with developers, estate and project management companies to build, renovate and extend commercial properties.
Refurbishment
House refurbishment from trustworthy builders in Cardiff. Get in touch to tell us about your refurbishment project.
Roofing & Guttering
Roofing and guttering services in Cardiff. All aspects of roof work carried out.
Property Maintenance
We work on a wide range of aesthetical jobs big and small in the Cardiff area for both domestic and commercial customers.