House Extensions in Cardiff
With homes becoming more expensive in Cardiff, a lot of our clients are choosing to extend their homes instead of moving to a new house.
If you have a growing family or you simply need a little more space then a house extension is a great way to keep costs down while making the most of your existing home.
Extensions come in a range of sizes and shapes and on this page we will explain some of the options that may be available to you in your home.
At Reid Building we work with you to understand the project you want to complete as well as working within your budget.
Our house extensions in Cardiff projects are a collaboration between us, this is to ensure you get the house that you have always dreamed of.
Cardiff Home Extensions
Extending your home in Cardiff is one of the best solutions that many of our clients have turned to because it's often much cheaper than buying a new house and moving.
We have noticed an increase in home extensions being created in the Cardiff area which is due to the rising costs in owning a house.
When it comes to an extension there are many options you can go with. You can go with a traditional extension to modern and everything else in-between. House extensions are a blank slate and there are only a few limitations which include:
Types of house extensions
Take a look at the more common types of house extensions.
Single story house extensions in Cardiff
A single story house extension is a room extension with a vaulted ceiling and it uses the existing pitched roof.
Multi-story home extension
A multi-story home extension consists of two or more floors and can be built onto any part of the existing building.
Wrap around home extension
A wrap around home extension consists of an extension where the side of the house meets the rear. They then combine to make a larger space.
Orangery Extension
An orangery is a solid structure with a roof, wall and double glazing and is usually added to the back or side of a house.
Why have a house extension?
There are many benefits of adding a house extension to your Cardiff home, and we have listed some of them below.
Save money vs moving to a new house
Extensions will save you from losing money as you don't have to pay a big deposit on a new home, you don't have to pay solicitors fees, you don't have to pay agency fees and you don't have to pay to move all of your personal belongings.
With all of the money saved on the fees above you will often find you have money left over to decorate the new space you have created.
Increased home value
Not only do you get more space so you don't end up losing it with the kids or your partner because you are tripping over their feet, but you also add value to your home. An average property in Wales can add up to £59,000 in property value per 25 square metres added in an extension.
Adding a house extension also makes your home more desirable if you ever decide to sell it.
You can make it your own
More often than not when we move into a new home we are limited in the changes we can make to it structurally. However, with a new house extension, you have free range (within reason) to create the space you have always dreamed of.
If you choose to work with a reputable builder in Cardiff they will also be able to recommend home extension solutions that you may not have thought about which could improve your home and add even more value.
House extension cost in Cardiff
House extensions come in a wide range of sizes, shapes and options because of this no project is ever the same cost. If you would like to see how much your house extension would cost please get in touch with us and we will come to your home and give you a free no obligation quote.
We are based in the Llandaff area of Cardiff and have over 17 years of experience in building and extensions, We have various references that we can show to you along with past work.
We guarantee that you will be satisfied with the work complete.
If you need a house extension quote in Cardiff get in touch.
Our Services
Take a look at our other building services we offer in Cardiff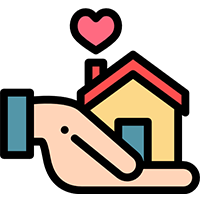 New Builds & Extensions
Considering a new house extension? Give us a ring. We can discuss your new build and extension ideas.
Groundworks
We offer skilled groundworks services in all weather conditions. Contact us to learn more.
Commercial
We work with developers, estate and project management companies to build, renovate and extend commercial properties.
Refurbishment
House refurbishment from trustworthy builders in Cardiff. Get in touch to tell us about your refurbishment project.
Roofing & Guttering
Roofing and guttering services in Cardiff. All aspects of roof work carried out.
Property Maintenance
We work on a wide range of aesthetical jobs big and small in the Cardiff area for both domestic and commercial customers.