Groundwork Services in Cardiff
At Reid building, we offer a wide range of groundwork services in Cardiff with fully trained and insured operators.
When we talk about groundworks we are referring to the preparation of sub surfaces that need to be taken care of before construction can start.
It is important that you hire a reputable and experienced builder when looking for someone to carry out groundwork as every building site is unique.
Before you start any building work in Cardiff you should hire groundworkers like us to inspect the land, we can then let you know about any potential problems that you may face.
Why choose our groundwork contractors in Cardiff?
We have over 17 years experience in building and are (in our opinion and our customers) the best builders in Cardiff. People call us to work on their projects because of our excellent reputation for being reliable, valuable and delivery the best in quality of work.
We know that mistakes can't be made and we know how important it is to hit deadlines. If you are looking for groundwork contractors in the Cardiff area then we would love to quote you on your project.
Even though we offer the best groundwork service in Cardiff we are one of the best-valued ground working companies around. Our prices are competitive and our staff are trained to the highest of levels. We're also fully insured!
So if you want to hire a trusted ground worker in Cardiff, get in touch for a free quote!
Our Services
Take a look at our other building services we offer in Cardiff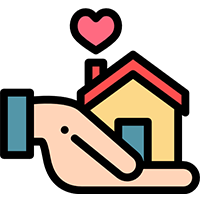 New Builds & Extensions
Considering a new house extension? Give us a ring. We can discuss your new build and extension ideas.
Groundworks
We offer skilled groundworks services in all weather conditions. Contact us to learn more.
Commercial
We work with developers, estate and project management companies to build, renovate and extend commercial properties.
Refurbishment
House refurbishment from trustworthy builders in Cardiff. Get in touch to tell us about your refurbishment project.
Roofing & Guttering
Roofing and guttering services in Cardiff. All aspects of roof work carried out.
Property Maintenance
We work on a wide range of aesthetical jobs big and small in the Cardiff area for both domestic and commercial customers.