Commercial Builders in Cardiff
At Reid building, we have completed a wide range of commercial building projects in Cardiff and the rest of Wales over the last 17 years.
Our team at Reid building can carry out specialised projects successfully to tight deadlines and provide the best quality finish.
We cover all types of commercial building projects including roofing, guttering, brickwork, rendering, groundwork, extensions, maintenance and more.
We work with property developers, landlords and project management companies to create, rebuild and extend commercial properties.
We also have no problem working with your architects and surveyors to bring your designs to life. If you're looking for commercial builders in Cardiff, Reid building is a name you can trust.
Take a look around the site for just a small look at some of the building work we have complete in the Cardiff area. Throughout our website, you can see the high standard of work we produce and if you would like a quote on your commercial building project please get in touch.
Why work with us?
Over the years we have grown to become one of the leading commercial building contractors in Cardiff, yet we still offer a personal touch to all of our clients ensuring that each job is something that we are proud of.
We have built an excellent reputation by having the right team for the job, providing a safe working environment for our team, finishing projects on time and to a very high standard.
Commercial construction company in Cardiff
We specialise in the construction of offices spaces, shop spaces, restaurant layouts and much more. Over the years we have been trusted by many companies to bring their visions to life and if you would us to do the same for you get in touch with us and we can give you a free estimate.
Our Services
Take a look at our other building services we offer in Cardiff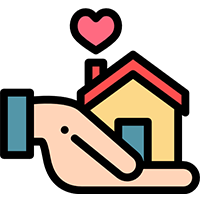 New Builds & Extensions
Considering a new house extension? Give us a ring. We can discuss your new build and extension ideas.
Groundworks
We offer skilled groundworks services in all weather conditions. Contact us to learn more.
Commercial
We work with developers, estate and project management companies to build, renovate and extend commercial properties.
Refurbishment
House refurbishment from trustworthy builders in Cardiff. Get in touch to tell us about your refurbishment project.
Roofing & Guttering
Roofing and guttering services in Cardiff. All aspects of roof work carried out.
Property Maintenance
We work on a wide range of aesthetical jobs big and small in the Cardiff area for both domestic and commercial customers.