House Refurbishment in Cardiff
Looking to restructure or improve your home either to add value or simply to enjoy your home a little bit more? Reid building can help.
We have over 17 years of experience in house renovation and refurbishments in the Cardiff area and have helped many clients like yourself improve their homes and add more value to them.
We have helped clients with one room and we have helped clients refurbish entire houses, so you can be sure there is no job to big or small for the best builders in Cardiff.
We also take on refurbishment projects from any stage in the process. If you're unsure what you need from a builder or have any questions about our refurbishment service please get in touch.
Typical refurbishment projects could include knocking down supporting walls, removal of walls, removing internal plumbing and electrics, installing new beams, installing steel beams, installing new electrics, plumbing and walls and much more.
How much does a house refurbishment cost?
All houses are different and our refurbishment projects are customised to your ideas. 
If you would like to see how much it would be to refurbish your home please get in touch for a free no obligation quote.
About Reid building
Reid building is located in the Llandaff area of Cardiff and has been around for over 17 years. We have a highly specialised team that can help with all areas of home refurbishment.
We pride ourselves on high standards and our reputation shows this. Our service is second to none and in our opinion, we are the best builders in Cardiff.
We can work closely with you, your designer, your architect and local authority to make sure that your home is refurbished to the standard you desire.
For a free, no-obligation quote get in touch.
Our Services
Take a look at our other building services we offer in Cardiff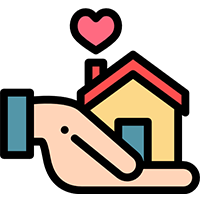 New Builds & Extensions
Considering a new house extension? Give us a ring. We can discuss your new build and extension ideas.
Groundworks
We offer skilled groundworks services in all weather conditions. Contact us to learn more.
Commercial
We work with developers, estate and project management companies to build, renovate and extend commercial properties.
Refurbishment
House refurbishment from trustworthy builders in Cardiff. Get in touch to tell us about your refurbishment project.
Roofing & Guttering
Roofing and guttering services in Cardiff. All aspects of roof work carried out.
Property Maintenance
We work on a wide range of aesthetical jobs big and small in the Cardiff area for both domestic and commercial customers.